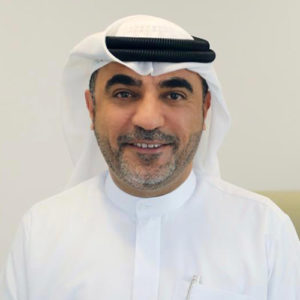 Hussain Al Mahmoudi
Mr. Hussain Al Mahmoudi serves a dual role as the Chief Executive Officer (CEO) of the American University of Sharjah Enterprises (AUSE) and SRTI Park. Both these entities were established through royal decree by the Ruler of Sharjah, who also directly appointed Mr. Hussain to these responsibilities in order to create collaborative long-term relationships between industry, academia and the public sector, fostering an ecosystem of enterprise and innovation.
Previously, Mr. Hussain served as the Director General of the Sharjah Chamber of Commerce and Industry, a Member of the UAE Chamber Federation, and GCC Chambers for 8 years. He was responsible for the overall management and operations of the Chamber including the provision of services to its members. In this role, he launched several strategic economic initiatives for Sharjah such as the SME Act, Sharjah Export Centre, Sharjah Commercial Arbitration Centre, and the Sharjah Business Forum.
Mr. Hussain has held leadership roles at leading regional and international companies such as the Royal Dutch Shell Group, Emirates National Oil Company (ENOC), and several Dubai Holding entities. He currently serves as honorary board member of both, the Tatweer Forum and of Maastricht University in the Netherlands, and as chairman of the Emirates Business Council for Sustainable Development. He also serves as a board member of the Sharjah Entrepreneurship Center (Sheraa). Mr. Hussain possesses an MBA from the American University of Sharjah and a BA in Economics and Communications from Seattle Pacific University in the US.