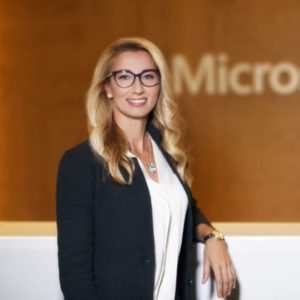 Kristina Tikhonova
Kristina Tikhonova took over as President of Microsoft Russia on March 15, 2019.
Kristina has 20 years of experience in management, sales, business development, strategy and customer relationship, mainly in the telecommunications industry, holding senior positions at companies such as Nokia Networks, Veon, NEC and Mitsui & Co Ltd.
Kristina started her career in St. Petersburg in 1998 at Mitsui and Co. (Japan), where, in partnership with NEC Corporation, she was responsible for promoting NEC's telecommunications products on the Russian market. In 2005 she was invited to Nokia Networks, where Kristina worked for over 10 years and went from senior account manager to CEO and then vice president of Nokia Networks in the East Region. Thanks to the successful transformation program that Nokia Networks carried out under her leadership, in 2016 Kristina was invited to Veon (formerly VimpelCom) to lead the operator's business transformation in seven countries of the Eurasia region.
Kristina Tikhonova graduated from the Executive MBA course at the Russian Academy of Sciences and Kingston University (Great Britain) and holds a red diploma from St. Petersburg University with a degree in Economics and Finance.