Global Leadership – Women in Tech CCA Awards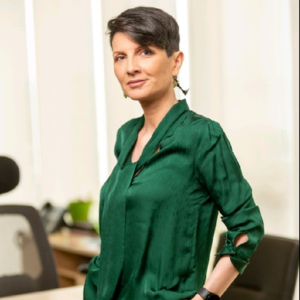 CCA Awards
ANA NAKASHIDZE
CEO, AzerTelecom
Ana Nakashidze is a distinguished telecoms executive with over two decades of industry leadership experience. Throughout her career, Ana has held key positions in public, private, and international telecoms organizations. She made history by becoming the first woman Chief Technology Officer (CTO) in Georgia, overseeing technology for major fixed-line and mobile operators. Her expertise extends to advising telecoms regulators, governments, and public institutions on expanding rural broadband infrastructure in Georgia and the surrounding regions, such as the South Caucasus and Central Asia.
In 2018, Ana Nakashidze joined Azertelecom as Deputy CEO and swiftly advanced to the role of CEO in 2020. Her two-year tenure as CEO in 2022 proved transformative, guiding the company through post-COVID challenges and geopolitical crises, achieving remarkable realignment and success.
Ana's contributions to the telecoms industry have been internationally recognized. She was named among the prestigious "Power 100" by Capacity Media, an annual compilation of the most influential figures in the telecommunications sector. Additionally, she earned a spot on Capacity Media's "Women to Watch" power list, celebrating her significant impact on the telecoms and tech sectors.
Ana Nakashidze is a trailblazer in projects that shape the future of the Internet regionally and globally.