Most Disruptive – Women in Tech MENA Awards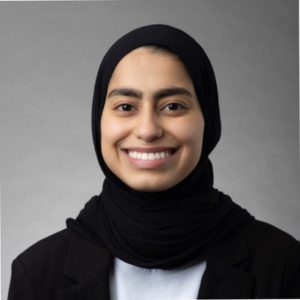 MENA Awards
FATIMA ALKAABI
Computer Engineer & Inventor
Fatima Alkaabi, a graduate of Virginia Tech with a degree in Computer Engineering and additional studies in Cybersecurity, Women and Gender Studies, and Science, Technology, and Society, stands as a shining example of youthful ingenuity and dedication to innovation.
At the remarkable age of 17, Fatima was already celebrated as the Youngest Emirati Inventor in 2015. Her journey into the world of invention began when she was just 7 years old, driven by an unyielding passion for creativity and problem-solving. She demonstrated her exceptional talent by conceiving twelve inventions that aimed to address local community issues, such as a smart steering system to combat texting while driving and the Teleporter, a robot designed to attend school on behalf of sick children.
Fatima's work extends beyond invention, as she actively fosters social platforms centered on innovation and creativity. Through volunteer tutoring and workshops, she has shared her profound knowledge of the sciences with over 3000 students in her region. In 2016, she earned international accreditation for peer-to-peer training and counseling.