Best Ally – Women in Tech LATAM Awards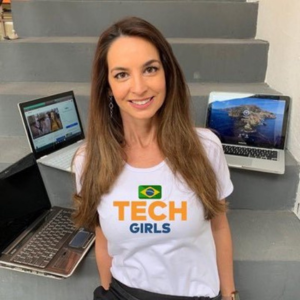 LATAM Awards
GISELLE LASSERRE
Founder & Software Developer, Tech Girls
Gisele Lasserre, the visionary behind Tech Girls, an initiative that's changing lives and bridging gaps in the STEAM field. Gisele, a former software developer, faced her own midlife crisis at 40, which led her to embark on a mission to empower women in social vulnerability. This drive birthed an extraordinary and proprietary educational methodology that blends beauty, reverse logistics, and creativity.
With a focus on environmental sustainability, Tech Girls addresses the electronic waste issue by teaching women to craft jewelry from discarded electronics while simultaneously nurturing their IT skills, spanning from computer repair to software development. As a unique incentive, graduates receive the laptops they've rehabilitated during their immersive digital courses.
Tech Girls' success isn't just about technical prowess. It's about empowerment and inclusion. By tapping into an untapped talent pool, Gisele's initiative effectively tackles three global challenges: electronic waste, the IT talent shortage, and digital illiteracy. This holistic approach garners commendations like the HP Equity Challenge Award, Shark Tank Brazil recognition, and Curitiba Municipality Awards.
Gisele Lasserre's vision isn't just about training; it's about transforming lives. With an unwavering focus on underprivileged women, Tech Girls cultivates a positive connection between electronic waste generators and aspiring digital professionals. The result? Over 590 women have already had their worlds transformed, breaking the chains of digital illiteracy, reclaiming self-esteem, and joining the ranks of IT teams at major corporations.
Tech Girls stands as a beacon of change, pioneering practical solutions to global issues while fostering a more inclusive and equitable future for all.