Most Inspiring Teen – Women in Tech Europe Awards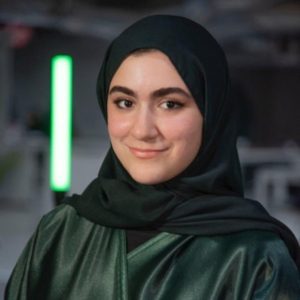 MENA Awards
NOOR AL SADAT
Team Leader of the Championship, F1 School in Saudi Arabia
Noor, a prominent student at Al-Faisaliyah Islamic School in Khobar, is a true leader and scholar. She has excelled in the F1 in School Championship in Saudi Arabia, showcasing her engineering skills and dedication to teamwork.
Noor's academic journey reflects her passion for knowledge and excellence, with an impressive Top 10 placement in the Chemistry Olympics.
As a speaker at TEDxManarat Al Khobar Intl Youth, Noor explores uncharted intersections of self, technology, society, and change, exemplifying her drive to inspire positive transformations.
Noor's accomplishments and leadership roles in both the F1 in School Championship and her academic pursuits reflect her unwavering dedication to excellence, teamwork, and continuous personal growth.